.S. Army Gen. James Dickinson, USSPACECOM commander, speaks with Dr. Stacey A. Dixon, Principal Deputy Director of National Intelligence, April 4, 2022, at USSPACECOM's provisional headquarters. (US SPACECOM)
SPACECOM commander James Dickinson assures Tuberville, Strong, Britt that Huntsville remains best location for U.S. Space Command HQ
By Daniel Taylor, 1819News.com
WASHINGTON DC – After meeting with U.S. Space Command (SPACECOM) commander Gen. James Dickinson, U.S. Rep. Dale Strong (R-Huntsville) said the Office of the Secretary of the Air Force has "some explaining to do" on why it appears to be wavering on choosing Alabama as the permanent headquarters for SPACECOM.
Strong said he met with Dickinson Wednesday, who seemed confident Redstone Arsenal in Huntsville will win out in the final decision, despite moves from the Biden administration to the contrary.
"Just walked out of a meeting with [SPACECOM] Commander GEN Dickinson," Strong tweeted. "I was assured by him that he couldn't envision any circumstance where he wouldn't recommend Huntsville as the permanent SPACECOM HQ. He had no concerns with the initial decision."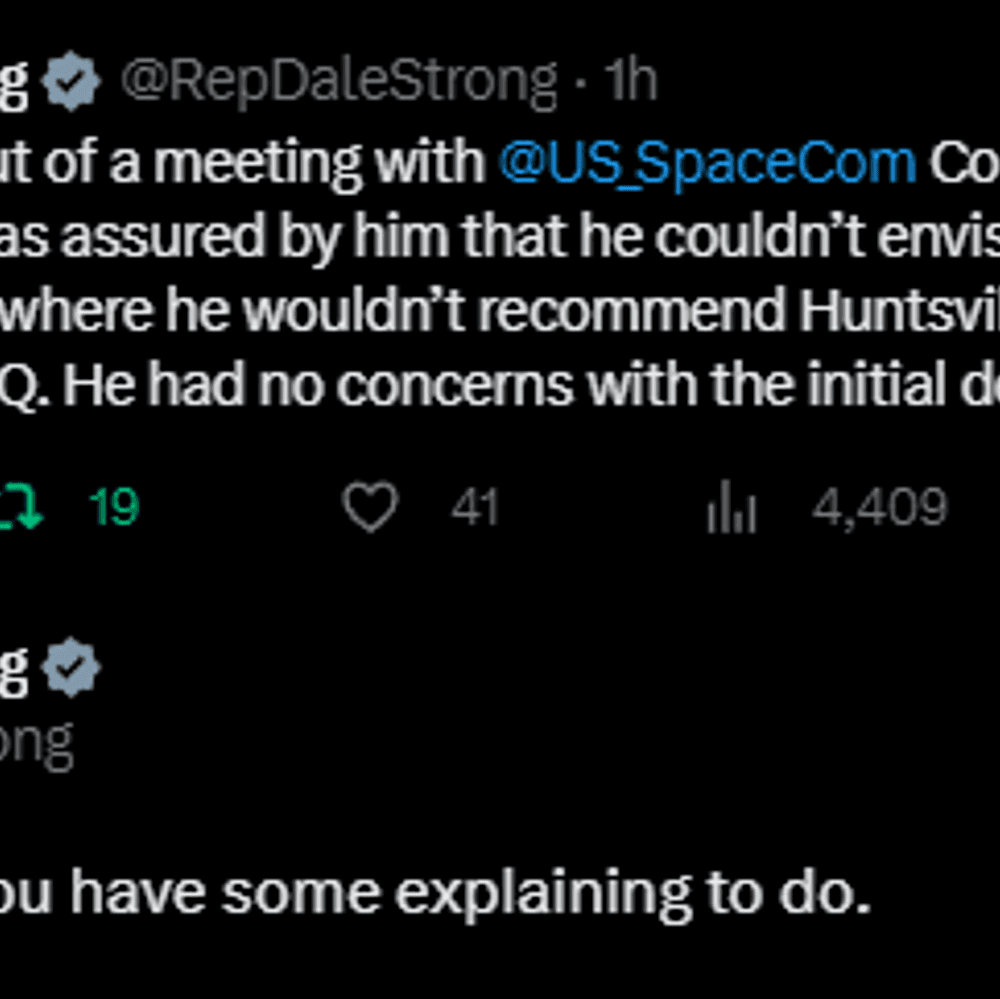 He followed that up by simply tweeting: "[Secretary of the Air Force] — you have some explaining to do."
U.S. Sens. Tommy Tuberville (R-Auburn) and Katie Britt (R-Montgomery), who were also in the meeting, said with Dickinson's confirmation of Huntsville as the "preferred location " for Space Command, it's past time to make a decision free of politics and in the best interest of national security.
General Dickinson just confirmed to us that [SPACEOM] HQ belongs on Redstone Arsenal," Britt tweeted. "This is no surprise, because it's what the facts clearly support. The White House must keep politics out of this and do what's best for our national security. It's past time."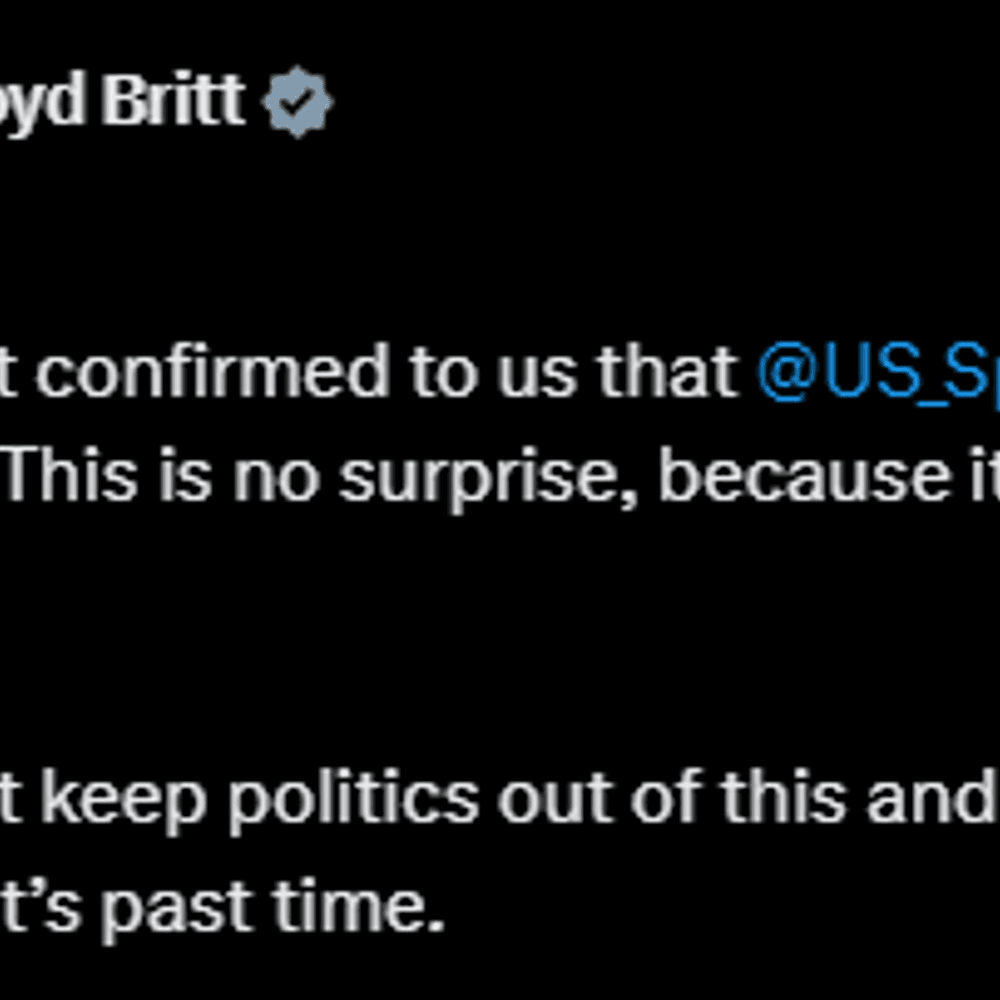 "Enough is enough, it's time to bring [U.S. Space Command] home to Huntsville," Tuberville tweeted.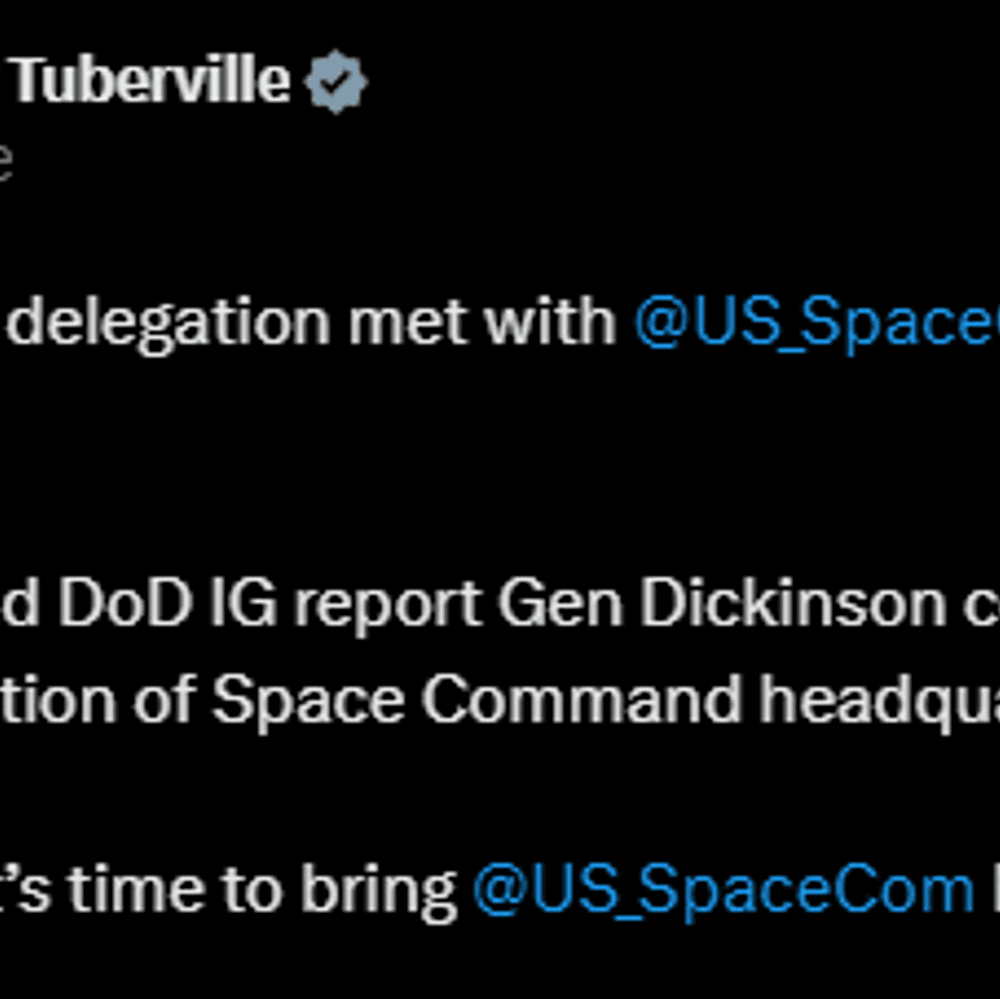 The Colorado Republican Party tweeted support for Tuberville and Alabama to be SPACECOM's new home, given Colorado's "unfettered abortion laws."
Tuberville has been holding up military promotions for months of the U.S. Department of Defenses abortion policy, though the Biden administration denied that had any bearing on the decisions.
"Abortion has nothing to do with military readiness," Tuberville tweeted, referencing the Colorado GOP's tweet. "Huntsville was selected on the basis of 21 different criteria. It wasn't even close. Colorado didn't make the top 3."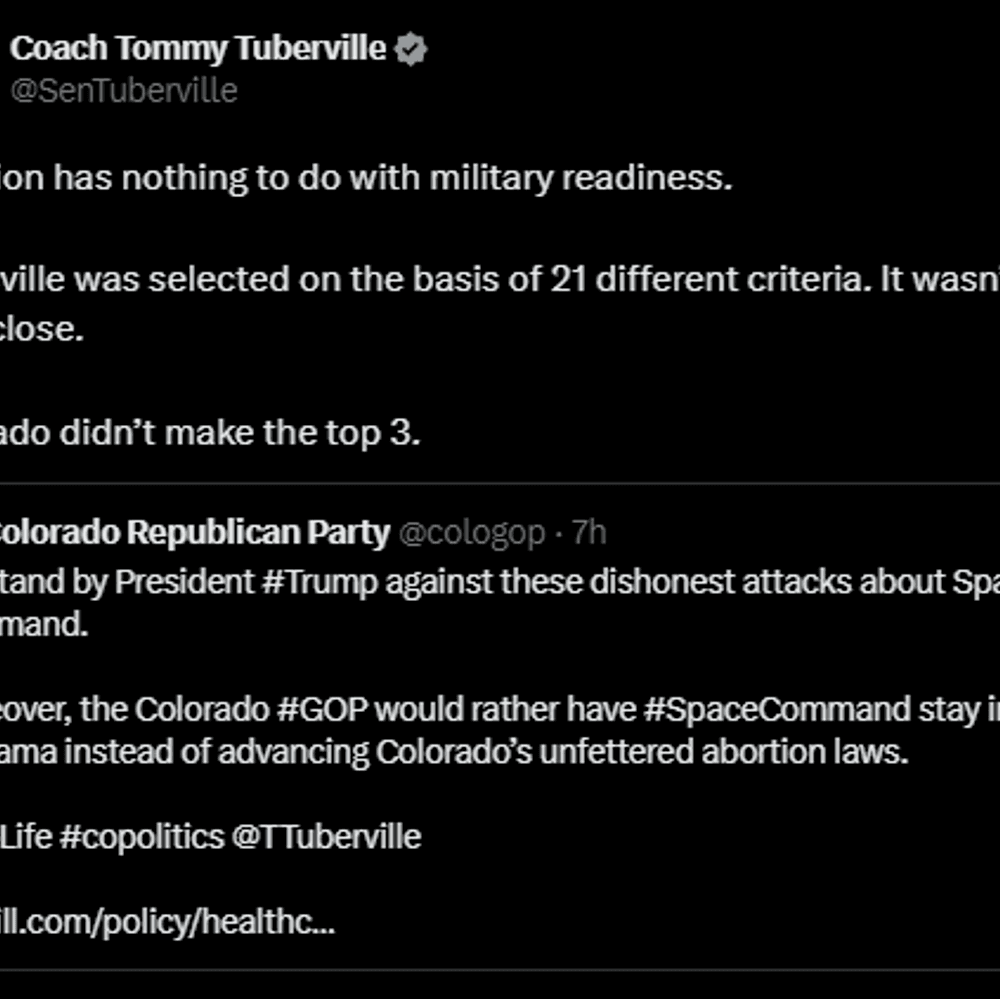 Huntsville has repeatedly been ranked as the top choice for Space Command, but continued delays by the Air Force in making a decision and reports that President Joe Biden wants to keep it at its current temporary location in Colorado have cast serious doubt on what once seemed like a sure thing when former President Donald Trump chose Alabama in 2020.
Amid this confusion, Ohio lawmakers are seizing the opportunity to throw their state's hat in the ring to be considered for SPACECOM.
According to Defense News, six Ohio House Democrats and two Republicans sent a letter to Biden asking him to locate Space Command at Wright-Patterson Air Force Base.
Ohio currently has several Air Force and NASA installations, highlighted in the letter, which was also addressed to Defense Secretary Lloyd Austin, Air Force Secretary Frank Kendall and Chief of Space Operations Gen. Chance Saltzman, Defense News reported.
To connect with the author of this story or to comment, email daniel.taylor@1819news.com.